Plywood Box Feeder Plans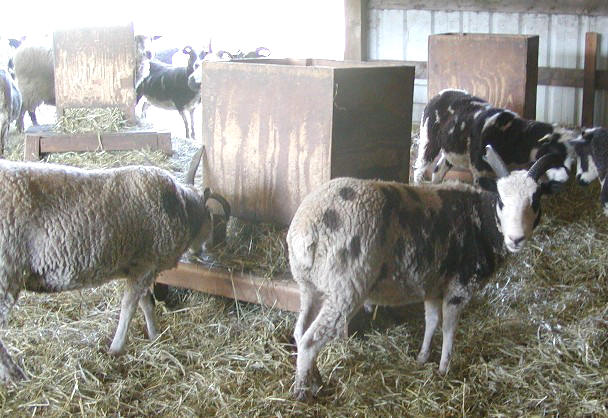 Photo shows several box feeders in use
These plans are in the "Sheep Housing and Equipment Handbook" published by the Midwest Plan Service. The book is jam packed with plans for building just about any thing you'll need to help manage, feed and house your sheep. To purchase copy go to: www.mwps.org. On the left side under Publications click on Livestock, then Sheep, to find ordering instructions.
We've built a lot of these feeders and find them to be very useful. They will easily hold up to a half a bale of hay if you're self feeding. They can be moved by one person (by turning feeder on it's side and rolling to a new location), and they work about as well as any other feeders we've tried to keep fleeces clean because the sheep have to eat from the bottom.
Notes: we've come up with a few modifications to these plans...
LEGS - we use stub pieces of 4" x 4" posts for the legs. It gives the feeder more stability then 2" x 4" posts do.
METAL STRAPS - we haven't found these to be necessary.
UPRIGHTS - we use scrap pieces of 2" x 4"s instead of 2" x 2"s since we usually have some lying around.